Jamila Law Associates is the best law firm in Lahore Pakistan having a variety of legal solutions for all your legal issues. We are among the top law firms in Lahore Pakistan since 2009. Whenever two or more lawyers get their heads together on a legal problem the result is much better than an individual and this is what brings us on top position in the list of law firms in Lahore Pakistan. Our best law firm in Pakistan has hand-on experience in all the fields of legal subjects which have made Jamila Law Associates the top law firm in Pakistan. Unlike other best law firms in Pakistan, we don't hire juniors to show our self as top law firms in Pakistan as we believe in partnerships. We have experienced legal experts from the list of law firms in Pakistan who have a great reputation and this is what makes us among the top ten law firms in Pakistan. Legal firms in Pakistan or legal firms in Lahore normally work in a particular field of law but this is not the case with our firm. We deal with almost all the legal issues that you face in the country and Advocate Jamila is the best lawyer in Lahore Pakistan. We are not only considered as the best civil and family law firm but we are also considered as the best criminal law firm in Pakistan. We don't confine ourselves to the books as there are many things which are also not in the books which we have learned from our experience. We have connections in many departments that make our work easy and ultimately the client is benefitted out of it. We not only have experienced experts in our offices but retired judges and but retired bureaucrats are only working on our panel. We have clear understandings of our obligations that we take on our shoulders from the client. We not only understand the established standards of legal professional conduct but the reasons underlying these standards. We understand that we have a fiduciary duty of the highest order and we feel happy to say that the firm has adhered to a high standard of honesty, integrity and good faith in dealing with clients. We do not purchase any interest in the subject matter of litigation as we are pure professionals and we only charge for our legal services.
Top law firm in Lahore Pakistan: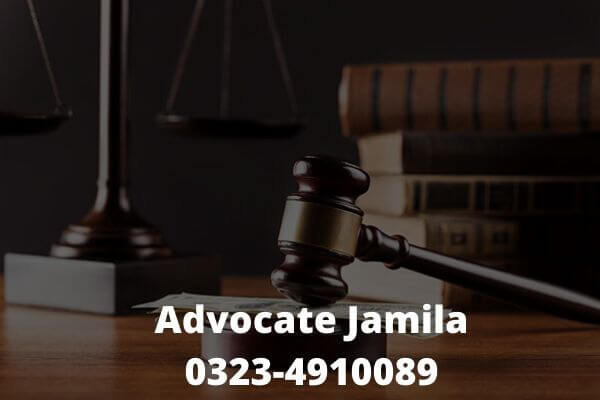 Jamila Law Associates is the top law firm in Lahore Pakistan for more than a decade now. Our hard-working and success rate is 100%. We provide customer services to all our clients having legal issues. Advocate Jamila is the top advocate in Lahore Pakistan and knows how much mental agony the clients bear when they are going through litigation. We step in the shoes of our clients and resolve their legal problems. Clients who have law firm contacts in Lahore know how good we are as we have earned this reputation with our dedication towards the work.
Best law firms in Lahore Pakistan
: Your search for the best law firms in Lahore Pakistan is over as you have reached the right place. We are the best in all the subjects of law. In Pakistan, people come to legal firms in Lahore Pakistan when they are in a trap. We facilitate our clients to come out of the trap and avail their legal remedies against those who have created this trap. We are the best when it comes to civil and family cases. Most of the decisions by the courts through our advocacy have gained the status of law authorities. These authorities by the higher courts are now studied by the other experts to represent their cases in courts.
Best criminal law firms in Lahore Pakistan:
We feel proud to say that we are among the best criminal law firms in Lahore Pakistan. If you are facing any criminal trial or you need any bail in a criminal case you can approach our legal firms in Pakistan and get in touch with the attorney in Lahore. Criminal cases start when an FIR is registered by you or against you. In some cases, you can also approach us before the registration of a criminal case such as when you have given an application to register FIR but the police officials are not registering it. In some cases, a criminal complaint is registered after the inquiry in those cases also you can approach us if you are accused of a complainant.
Top law firm in Pakistan:
Our law chamber is considered to be the top law firm in Pakistan depending on the success we have achieved. We not only have the best success rates in terms of cases but also have the most satisfied customers. We not only resolve the legal problems of clients but we also resolve them timely with our legal services in Pakistan. Most people think that it takes ages to get a decision from the courts but we have a track record that not only gets a case disposed of in the favor of the client but we also timely get it disposed of which always creates goodwill in the eyes of a client.
Family law firms in Pakistan:
In most cases the family cases are done by individuals but we feel proud that we are the only law firms in Pakistan who have created the concept of dealing the family cases on the level of firms. We are the pioneer law chamber that started dealing the family cases on the level of a law firm. We think that the family litigation causes more agony to the client as compared to any other case as love and emotions are attached to the family issues.
Pakistani law firms in UK:
Those who are looking for a Pakistani law firm in UK I would suggest they at least contact us as most of the litigation and services can be done from Pakistan also. Litigation in the U.K. is expensive compared to Pakistan. Let us guide you so that you don't need to come to Pakistan for Pakistani legal services. You can resolve your legal issues from the U.K without coming to visit Pakistan. We deal in a variety of family cases like court marriage, divorce, etc. We have law firms offices in Lahore and not in the UK but you can contact us as we can get your issue resolved from Pakistan instead of the UK.