UNMARRIED CERTIFICATE IN PAKISTAN:
Unmarried certificate in Pakistan means a legal certificate that declares a person unmarried and Non Married. Once you fulfill unmarried certificate requirements and pay unmarried certificate fees in Pakistan we can process your unmarried certificate application in Pakistan. In the picture, you can see the unmarried certificate format in Pakistan. For an unmarried certificate, Nadra's assistance is taken. For unmarried certificate apply online services is not available in Pakistan. Unmarried certificate documents in Pakistan require a copy of the CNIC of the applicant, CNIC copies of the parents, and CNIC copies of two witnesses along with an affidavit from the parents. An unmarried certificate in English is available in Pakistan. Instead of getting married abroad with the certificate you may have the services of online marriage in Pakistan through us. An unmarried certificate letter in Pakistan states that the person is single as per their and Nadra's record. An unmarried status certificate from Pakistan is normally required for marriage abroad by overseas Pakistanis. Unmarried certificate validity is six months. Widow unmarried certificate is not required they can use the death certificate of husband.
UNMARRIED CERTIFICATE FORMAT IN PAKISTAN: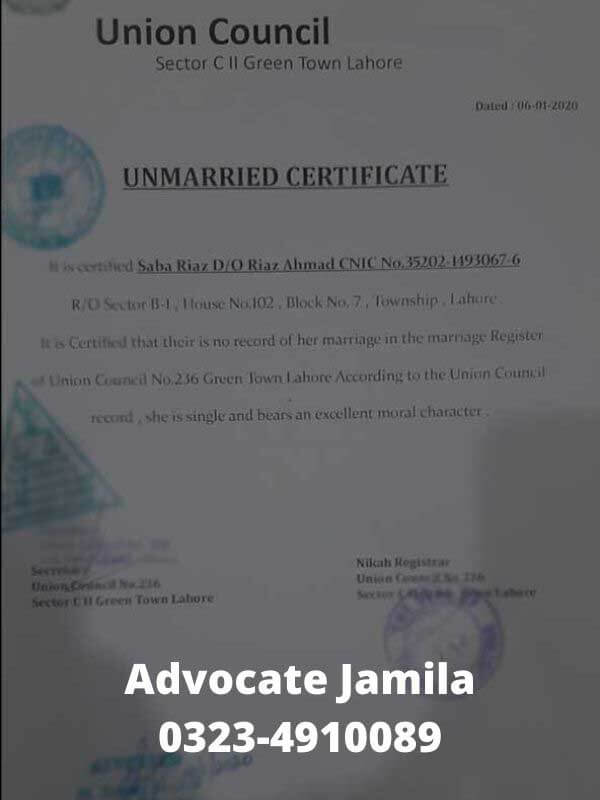 In the picture, you can see the unmarried certificate format in Pakistan. For details, you can contact Advocate Jamila directly.
UNMARRIED CERTIFICATE FEES IN PAKISTAN:
Unmarried certificate fees in Pakistan depend on the requirement and circumstances. Please discuss your case with Advocate Jamila and she will tell you the fees as per the requirement of the client. We also provide services of online nikah in Pakistan.
UNMARRIED CERTIFICATE REQUIREMENTS:
Unmarried certificate requirements in Pakistan need the following.
Copy of the ID card of the applicant

Copy of passport of an applicant if abroad

Copy of ID card of parents if alive otherwise Id card copy of brother or sister

Copy of ID card of two witnesses

An affidavit from parents and witnesses that the applicant is single

Marital status report from Nadra
UNMARRIED CERTIFICATE APPLICATION:
The applicant or his lawyer can process the unmarried certificate application in Pakistan. Your application is prepared as per the requirement and circumstances of the cases by our lawyers in Lahore Pakistan.
CAN WE APPLY UNMARRIED CERTIFICATE ONLINE: No! Services to apply for an unmarried certificate online are not available. We can also get you a stamp of apostille in Pakistan on the certificate.
UNMARRIED CERTIFICATE DOCUMENTS REQUIRED: For unmarried certificate documents required are mentioned above.
WHAT IS UNMARRIED DECLARATION CERTIFICATE: Unmarried certificate and unmarried declaration certificate in Pakistan are the same.
IS UNMARRIED CERTIFICATE IN ENGLISH? Yes! An unmarried certificate is in the English language.
WHAT IS UNMARRIED CERTIFICATE VALIDITY: In most of countries, the unmarried certificate validity is 6 months. After 6 months you have to reissue it.